PAST WORKSHOPS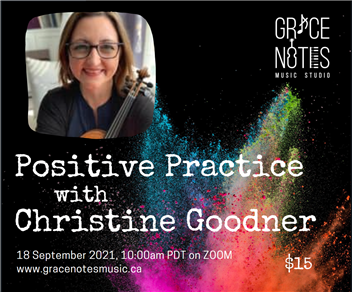 We are delighted to be hosting a practice workshop with Christine Goodner! This workshop designed is to help students and parents alike prepare some strategies for practicing this year.
Here's a little more about our specialist:
Christine Goodner is a Violinist, Music Educator, Author & Speaker from Hillsboro, OR. She has experienced all sides of home practice as student, parent and teacher and is passionate about helping students reach their goals and develop a life-long love of music and supporting the adults who help them. She is the author of Beyond the Music Lesson: Habits of Successful Suzuki Families and Positive Practice: 5 Steps to Helping Your Child Develop a Love of Music, Host of the Time to Practice Podcast, and a frequent speaker and clinician on the topic of helping reduce conflict during music practice so students can get more done in the practice room.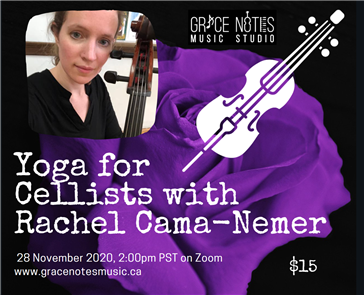 Yoga, in addition to being a 5,000-year-old practice for both the body and the mind, it is perfectly designed for the care and maintenance of the musician. Yoga is proven to prevent overuse injuries––tendonitis, shoulder & neck pain and back pain. For the cellist, yoga can be the perfect cure for years of carrying a large instrument. But also, the breathing and meditation practices found within yoga are even more important for dealing with intense performance schedules and auditions…and lead to general contentment. What's more, cellists can start these yogic-based practices when the begin studying cello; and incorporate them into practice routines.
Yoga for Cellists is appropriate for all ages––even preschoolers can learn something from this workshop. All participants will come away with relevant yoga practices to place within their cello practice routine.
1 hr., Instruments Recommended.
Rachel is a performer, scholar and educator whose versatile career has taken her from performing early music on viola da gamba to a decade of teaching yoga in various fancy studios…only to discover that yoga belongs in homes, school classrooms and office buildings. In order to get "right back where she started," Rachel studied yoga therapy, meditation and Sanskrit. She now teaches music at an arts-integrated preschool in Philadelphia, has a private studio of string students and performs on whatever instrument she is handed…though it's often a cello. She also has two young sons, who both play string instruments.